Now is the time for you to test drive and confirm your major and career choice by determining if they are a good fit. While you assess your chosen career field, you also develop skills and gain experience that can be reported on your résumé.
"Try-on" your major/career field: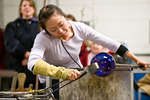 Enroll in an introductory class in your chosen major and evaluate how the course content relates to your interests and skills.
Get involved in student professional organizations to obtain more information about the career field and major; discover if you share common interests with members; and attend professional meetings to network with those who are currently doing what you aspire to do.
Shadow a professional in your chosen field for a day or a week to learn about the typical pace and responsibilities at work.
Work for a student organization in a leadership office with responsibilities directly related to you career aspirations.
Gain hands-on experience through practicums, student teaching and internships.
Participate in a field study experience or study abroad opportunity that exposes you to a future work environment.

Few people would buy a car without taking it for a test drive and confirming that it meets their criteria for purchase satisfaction.  Take time to determine your anticipated career satisfaction before you make a final commitment. Your career choice will impact you much longer than your choice of car.