Services
The Career Center offers a variety of services to School of Education students and alumni. Read more about each type of service, how it can benefit you, and how to sign up for each service.
This is an accordion element with a series of buttons that open and close related content panels.
Career Center Appointments
Events
Career Fairs
Handshake
WECAN
Kaltura (Videos of Workshops & Events)
Office Contact Information
Location
L107 Education Building
1000 Bascom Mall
Madison, WI 53706
Hours
Monday-Friday, 8:15 am – 5:00 pm
Phone
(608) 262-1651
Fax
(608) 262-9074
Career Center Email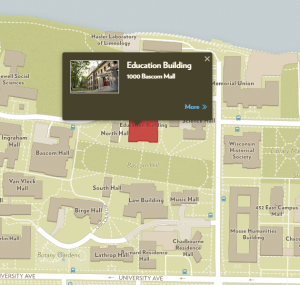 An interactive campus map is available and features information about the departments in each building as well as locations for public parking.
Parking Information
Parking is limited on campus, so it is advisable to arrive early and to check current parking availability.
Visitor parking information is provided by the transportation office.
City parking is also available around certain areas of campus.
Career Advisors
 Career Advisors are here for you!
Investigate and explore School of Education majors and related career options
Test drive and confirm major and career options, polish and enhance skills
Prepare and connect with potential employers, network for information and establish professional connections
Develop your promotional, job search documents, and/or your graduate school applications and essays
Map your individual career, graduate school and/or job search strategies
Implement your search, apply and interview
Obtain referrals to additional experts on campus
Career Advisors